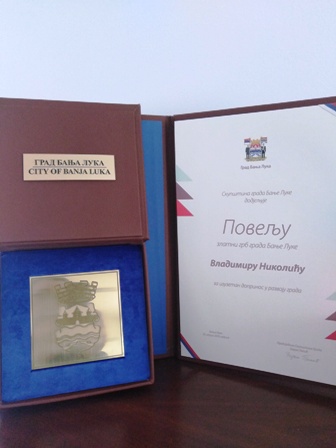 Consul General Vladimir Nikolic was awarded "The Golden Coat of Arms" at a ceremony marking the Day of the City of Banja Luka, held at the Banski Dvor Cultural Centre, on 22 April. The decision on the award was made by the City Assembly for outstanding contribution to the development of the City.
The Golden Coat of Arms award was also received by Marko Lopicic, General Manager of "M:tel" company, Bojan Risović, CEO of "Tropik" company and Ranko Skrbic, Dean of the Medical Faculty in Banja Luka. Celebrated athlete Abaz Arslanagic and writer Kolja Micevic were handed the keys of the City and the certificates of The Honorary Citizen of Banja Luka.
The ceremony was also attended by President of the Republic of Srpska Zeljka Cvijanovic, Vice-Presidents of the National Assembly Sonja Karadzic Jovicevic and Milan Petkovic, President of the Serbian National Council Milorad Pupovac, MPs of the Republic of Srpska and of the House of Representatives of the Parliamentary Assembly of Bosnia and Herzegovina.